Marieke Guy - July 21, 2014 in communication, data, events, featured, okfest, okfest2014
This year's OKFestival, the biggest open data and open knowledge event to date, brought together over 1000 attendees from more than 56 countries. People got together to create, share, network, converse, learn, hack, brainstorm, listen, debate, contemplate and party!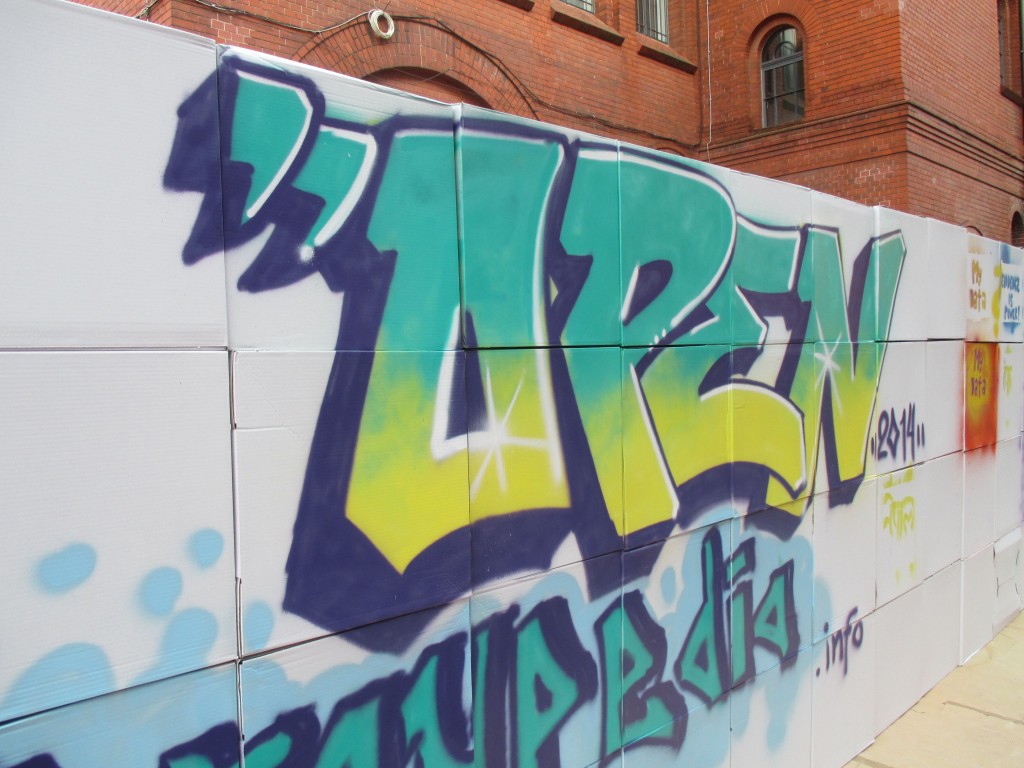 The event was held at the Kulturbrauerei (a name most of us could only say after a large beer!) in Berlin. The Kulturbrauerei is huge architectural complex originally built and operated as a brewery and OKFestival occupied a courtyard and the surrounding buildings – a truly amazing space.
The result of much planning meant that OKFestival was a unique experience, which was encompassed by a host of fantastic fringe events, a dynamic unfestival lineup and countless meet ups.
At times the size and diversity of the event left some of us attendees a little unsure of which path to take, but in true festival style the most exciting gems are those that are found serendipitously and stumbled upon.
Open Education played a staring role in the event and is increasingly becoming an important part of the OKFestival eco-system. As Neelie Kroes, European Commissioner for Digital Agenda, commented in her keynote: "The best investment we can make is education and that too must be open." Neelie went on to talk about the crime of teachers not being able to access materials, she is a great advocate of open education and was a true inspiration for attendees.
So here are some of the best open education sessions I managed to attend:
Open Educational Resources and Policy: Overview and Synergies with Fellow Open Movements
The OER and policy session was led by a stellar panel comprising of Alek Tarkowski (Director, Centrum Cyfrowe / Creative Commons Poland), Timothy Vollmer, Policy Manager, Creative Commons, Delia Browne (National Copyright Unit to the Australian Schools and VET sector), Nicole Allen (Director of Open Education, SPARC) and Melissa Hagemann (head of Open Access to Research and Open Educational Resources initiatives at the Open Society Information Program).
After an overview of current policy in countries including Poland, Brazil and Macedonia we broke out into different groups to look at specific angles on policy. In the group I attended looking at overlaps between government, data and OER it was great to hear new perspectives. For example an attendee from South Korea explained how a liberal city council and president and a curriculum driven by government has allowed Seoul to make more use of OERs. Unfortunately this trend is not played out in other South Korean cities. In Amsterdam in the Netherlands there has been activity around city budgets and education with attempts made to create textbook versus OER costings. However in the Netherlands the situation is problematic due to an existing law which states that new development must not diminish existing industy – which OER can do for the publishing industry. Other examples included the US and the Utah K12 OER work, SouthAfrica with initiatives from Siyavula and Italy.
The session concluded by an agreement that education should feature more prominently in the Open Government Declaration endorsed by the Open Government Partnership.
Open Education Smörgåsbord
The Open Education Working Group's Smörgåsbord offered attendees a taster of different aspects of open education
We ended up with 6 tables:
Kristina Anderson from CC Sweden offered people a chance to think about why teachers aren't using OERs.
Miska Knapek, an information experience designer from Denmark involved with OKF-Finland, and Irina Radchenko, an Associate Professor at the Higher School of Economics in Moscow, created dataland and had attendees think about open data repositories.
Alek Tarkowski from CC carried out a follow up session for the OER policy one mentioned above and worked on an OER policy map and infographics.
Tom Salmon, teacher and open development researcher, facilitated an open badges session where people had to run through a series of exercises using his open data in education posters. [more information]
Marieke Guy (me!) from the Open Education Working Group ran a Open Education Handbook role playing activity [more information]
Darya Tarasowa, a PhD student at University of Bonn, Germany, ran through Slidewiki with attendees and created a Slideset on Slidewiki for educators.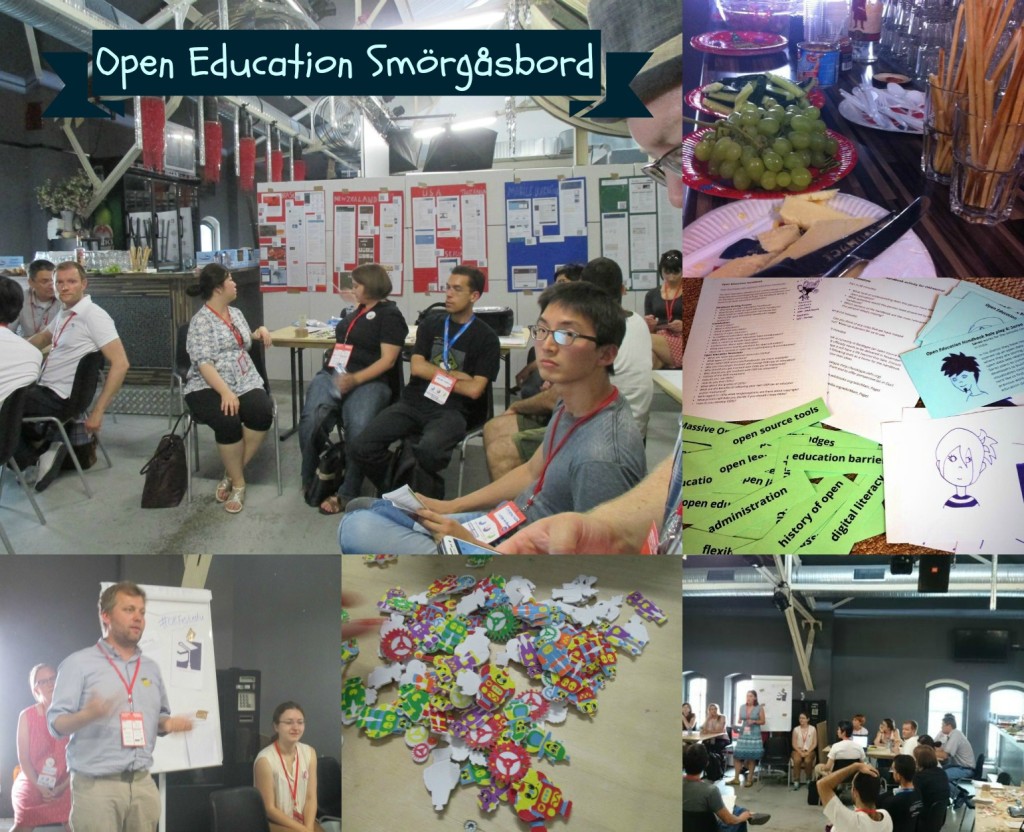 We all had some great conversations and will be following up on learnings in the very near future. Our session etherpad has notes from the session.
How to Teach Open Data
The session on teaching open data facilitated by School of Data, Peer to Peer University, Datakind UK and Open Tech School was incredibly well-attended. It involved a 'speed dating' type of activity (we moved round different tables) that allowed us to hear about various aspects of data training. The best tips I picked up were:
How to organise tech and data workshops – have a good ratio of learners to coaches, read the room and adapt material, finish with asking 'what worked?' 'what would you change?', take regular breaksand don't over facilitate.
Building effective curriculum and accreditation – know your audience and adapt, keep your community alive online, mix skill groups, include visualisations (always very popular) but then teach core skills too.
Type of education activities: a blended offline, online – keep to smaller issues – if you design a data expedition around a huge issue you won't finish it.
Designing passion driven communities – ensure that you enable well-defined tools and learning experiences, have a diversity of questions, remember that not all learners are the same, design for diversity.
The session provided an opportunity to hear about some great initiatives related to data teaching. I particularly enjoyed finding out about The blended learning approach the School of Data had taken where they had people sign up for two online MOOCs (introduction to data journalism and introduction to journalism) and then supported these with a Google group and weekly 2-hour meetups which allowed contextualizing of the MOOC content and group support.
Even more…
I attended a lot of other great sessions. There is too much to share here but I want to highlight a few choice moments:
Open Data in Cultural Heritage – OpenGLAM in Germany: There are so many amazing goings on around opening up cultural heritage objects including high resolution images and an increasing amount of activity building on this content through hackathons and coding sessions. The Twitter account @ddbkatzen, a cat meme with images from Deutsche Digitale Bibliothek, and Coding Da Vinci are clever examples of this. Coding da Vinci involved 16 cultural heritage institutiuons , 20 open data sets, 150 participants at hackathon, 180 at awards, 26 project ideas, with 17 ideas going through to fruition. Impressive stuff!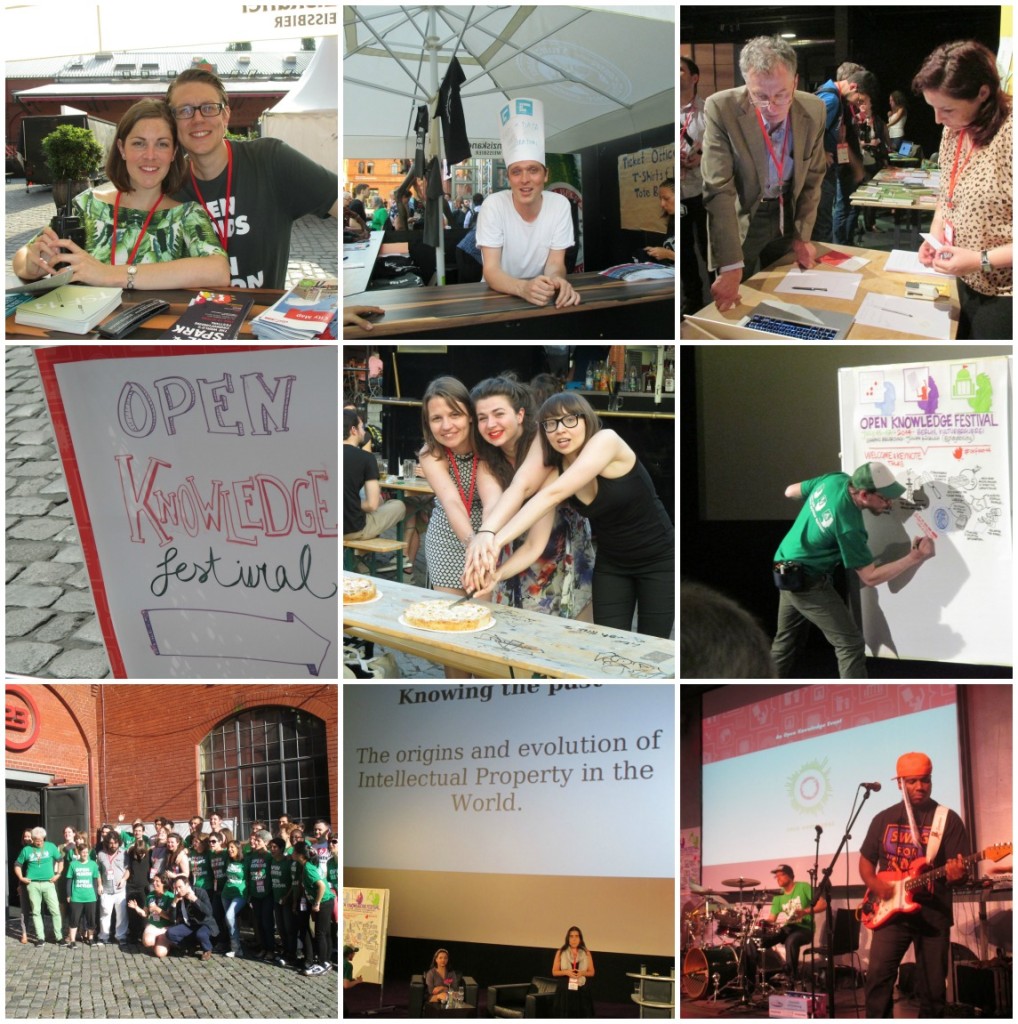 Open Data in Developing Countries: Research Sharing – this event showcased the results of the World Wide Web Foundation research project: Exploring the Emerging Impacts of Open Data in Developing Countries. A synthesis report from the project has just been released and makes great reading. Of particular interest here is investigations in to use of open data in the governance of South African higher education looking at the Centre for Higher Education Transformation (CHET) online, open data platform providing institutional-level data.
Open Development Working Group fringe event: There are so many join-ups between open education and open development and this day workshop (sponsored by Making All Voices Count) gave us an opportunity to explore some of them. The session on measuring impact raised some very big questions about how we gauge success – no easy answers but agreement that metrics are not enough and we need to look to innovative case-studies (for example looking at champions, the long-term benefits of conversations around data and the data value chain). I also participated in an open science/open education/ open development cross-over session which was hugely useful. It was fantastic to hear about the Pedagogy of the Oppressed and the democratic school movement in Brazil – all this offers a good grounding for more work around open learning and teaching practices.
OKFestival left me feeling inspired, invigorated and at many times humbled. There seems no better way to end this post than with a quote from Neelie Kroes: "I want to thank everyone at OKFestival14 – you are a real inspiration for me. The Future Is Open and you lead the way".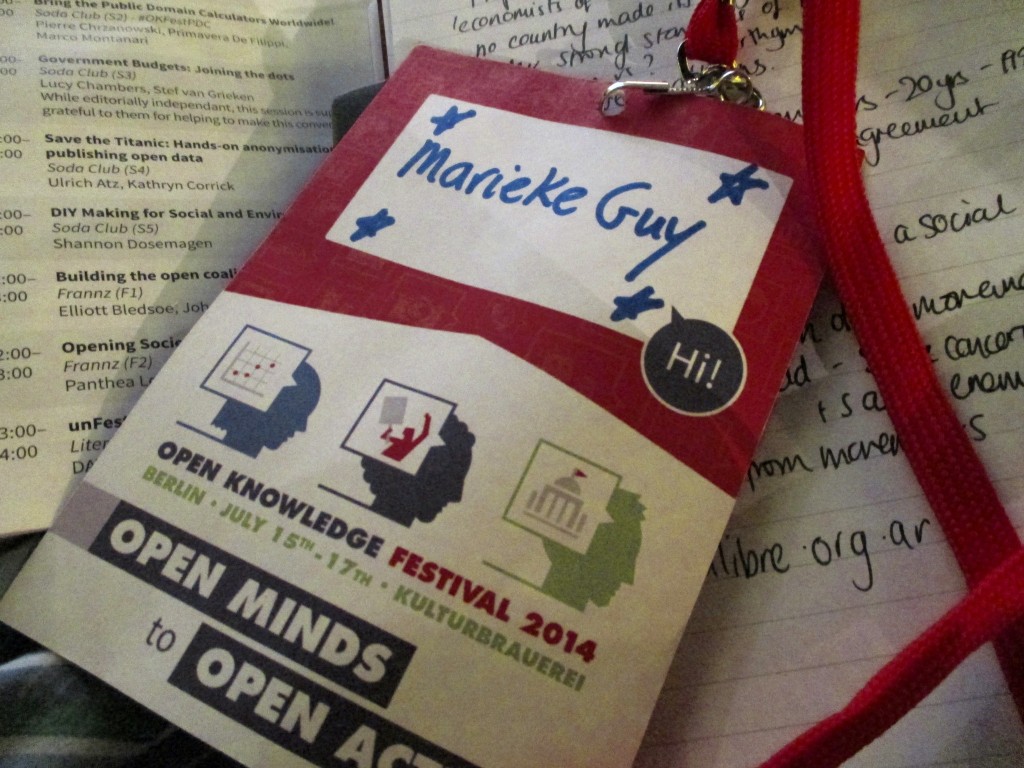 Photos from the event can be found in the Flickr Pool, Tweets are available using the #OKFest14 hashtag, videos of the keynotes will be available in due course. You can offer feedback on the event using this form.