Sharing Open Educational Ideas
This morning I attended the Open Educational Ideas online workshop. The 2-hour session introduced the Open Educational Ideas Project and started pulling together thoughts on how we can get educators active in sharing ideas and contributing to Open Educational Resources (OER) development at an early stage.
Initial thoughts on OER development
The session, led by Henri Pirkkalainen and Jan Pawlowski (both from
University of Jyväskylä), surfaced a few reflections on OERs that are worth mentioning here:
OER (and online resources more generally) do not always start out as open – this has implications for how they are released, shared etc.
Finding appropriate OERs isn't easy – pre-selection is difficult and many educators resort to Google. The Open Education Handbook section on finding OERs demonstrates this.
There is a difference between OERs and 'open resources used in education'. OERs have a didactical framework i.e. they have goals for learning and teaching. There seem to be two issues here, that of 'implied use' and that of how 'finished' a resource is. Can 'glossy' OERs with clear learning object be more easily used by educators?
The motiviation of the educator is important in defining how they will find and use resources. For example lack of time will lead to use of different types of resources.
The barriers to OER use and OEP are complex but many continue to relate to culture and emotional attachment (see the SURF report for more detail
Open Educational Ideas Project
The Open Educational Ideas Project works is driven by the John Steinbeck quote:
"Ideas are like rabbits. You get a couple and learn how to handle them, and pretty soon you have a dozen."

The premise is that people share OERs at too late a stage. Their delivery as polished resources often means that people are less likely to use them. This is partly because educators are unable to feel an emotional attachment to these resources and despite significant cultural change there is still a "not invented here" syndrome that prevails with regard to resources.
The OEI Project wants to encourage Wabi-sabi principles that promote imperfection and incompleteness.
They would like people to share ideas relating to OERs in the early stages, before they are complete. These ideas may take the form of concept maps, mock ups, sketches, outlines etc. The feeling is that it is much easier to create a community of practice around an idea than a resource.
As part of the project they are taking a look at the ideas-generation stages in OER creation.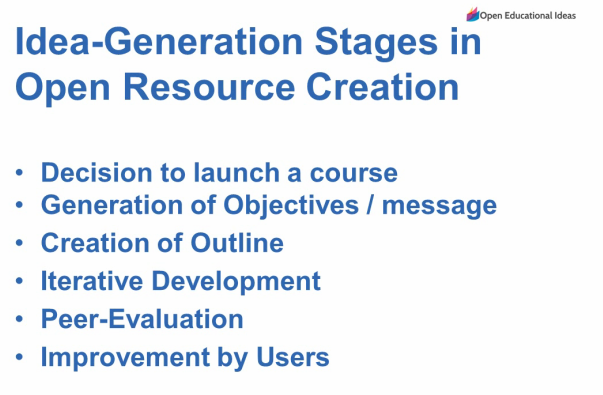 One outcome of the project is the creation of an interactive tool to support idea sharing, beta release will be in May this year.
Openly Developing Courses
During the workshop Jan Pawlowski shared his recent attempt to openly develop an online course. His insights, including acknowledgement of the enthusiasm of his 'human theatre', suggest that there is already an appetite for more collaboration.
Over the years I have been involved with the development of quite a few courses and online handbooks/textbooks. Most have been developed collaboratively and often in an open way. Many times have I blogged about the process and asked for feedback alongside the actual creation work (see the 2009 Jisc PoWR Project for example) . This is an increasingly popular practice. Only last week Tony Bates began to ask for suggestions for his open textbook on teaching in a digital age. However text is not necessarily intuitive and there are likely to be better workflow approaches. Open learning platforms are becoming more commonplace – see PROksi as mentioned in the workshop.
In the second half of the OEI workshop we started thinking about answers to the following questions:
What does it take that you feel ownership for something (teaching materials, essay, idea…)
In which situation would you consider sharing your educational ideas?
Where would you share?
Which tools would you use?
How to best express new ideas and innovations?
How would you structure your collaboration process?
Our answers were collated in a Google doc and make for interesting reading, they will start to form the basis for the project research and activity.
A recording of the webinar is now available online.
If you are interested in being involved then there is an OEI Facebook group where discussions will continue. Or alternately send your thoughts in to the Open Education Working Group.