Wikimania and the Future of Education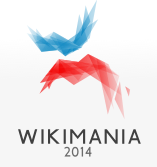 Mid-summer at the Barbican Centre, London. No better place to be!
Fabian Tompsett (Leutha) tells us about what's happening there. Fabian is one of three Wikipedians who will be working with Wikipedia until the end of August to support the volunteer conference team. Fabian has been a Wikipedia editor for over ten years, active on Wikiversity for over three years and edits all sorts of articles!
This year's Wikimania is in the UK and runs from 8–10 August 2014 with hack days and pre-event sessions taking place on the days before. Wikimania is a 2000+ person conference, festival, meetup, workshop, hackathon, and celebration. It's the official annual event of the Wikimedia movement and an opportunity to discover all kinds of projects that people are making with wikis and open content, as well as meet the community that produced the most famous wiki of all, Wikipedia.
The reimagining of Education is a hot topic at this year's event fuelled by concerns about jobs, skills and the economy. Should Wikipedia be more involved? To the exasperation of many teachers, Wikipedia is the first port of call for millions of students from primary school to university. Its sheer convenience is challenging standard pedagogical approaches that implicitly assume information is scarce and difficult to duplicate. What if teachers asked students to contribute to Wikipedia instead? How does open education fit in to this mix?
Proposals that were developed at the Future of Education Workshop have led to a fairly substantial Education Pre-Conference on 6/7 August. On the main day there will be sessions on is sessions enabling practitioners from various education programmes from across the Wikimedia community to come together and share their experiences and learn from each other. There are also opportunities for the community to present lightning talks.
If you get your skates on you could attend the Open Scholarship Weekend on 19 – 20th July.
Registration is still open for all events.


The Open Education Working Group will be attending Wikimania and plan to have a stand in the Community Village.