Sixth Open Education Working Group Call: Meta-Community Session!
A new date for your diaries – our sixth Open Education Working Group Call: Tuesday 27 January at 4pm – 5pm GMT.
Call links
This meeting will be slightly different to previous calls as we will be having a 'meta community session' or 'open open session' – an opportunity for different Open Education groups come along and introduce themselves. Each person will give a 5 minute pitch on their group, what it does, who it's audience is, when it meets (online or offline), it's unique selling points etc.
We'll then have a general chat about the challenges of sustaining an open education community reflecting on areas including national policy, funding, getting people onboard, bringing in new members etc.
So far we have representatives from OER-discuss, P2PU, Alt-C education sig, OER-Research Hub, Software carpentry, Open Policy Network, SCORE fellows, Școala mea, CETIS and Wikimedia coming along! Make sure your group is represented!!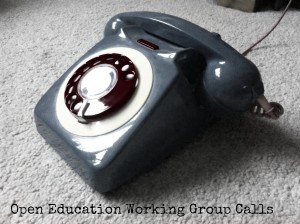 During the meeting we will be using an Etherpad for the agenda and notes. Please feel free to add your name and items to the agenda.
The minutes from the last meeting are available online.
Once again we are planning to hold the meeting in Google hangouts but would really appreciate your Skype addresses in case we have any problems. There is an upper limit of 15 people for Google Hangouts but we will attempting to transmit in Google Hangouts on Air too – Open Knowledge are currently investigating other approaches. Please check out the hangouts spec in advance.
Hope to see you there! Sign up if you'd like a reminder!