Open Education Week 2015
Next week is Open Education Week, a celebration of the global Open Education Movement. Its purpose is to raise awareness about the movement and its impact on teaching and learning worldwide. Participation in all events and use of all resources are free and open to everyone.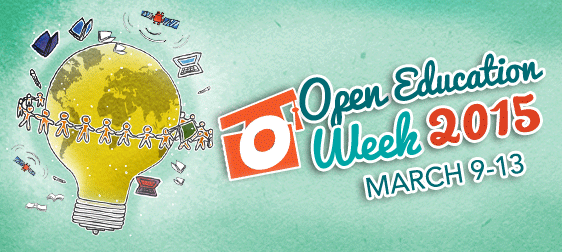 Our working group members are involved in lots of great events. Here are some highlights.
BCCampus
BCcampus is planning a week of Open Webinars for Open Education Week. Highlights include: A Discussion on Open Pedagogy, Distinguishing the dOERs: Faculty use of Open Educational Resources, Can I actually use it? Testing open textbooks for accessibility and The Open Web: (a) Lost (b) Reclaimed (c) Co-claimed (d) All of the above.
OER and Schools
On 11th March Josie Fraser will be delivering an OER Schools Workshop to 100 primary schools staff from three schools – taking a whole school staff approach to embedding open practice. This is a follow up to the OER Schools conference on the 29th of January, building on the schools guidance and the permission Leicester City Council has given to it's school employees to openly licence their work. I've rounded up as many of the outputs (videos, documents, info) from the day as possible, and these can be found here.
On the 12th March Josie will be leading a practice focused session on copyright and OER at Coventry University's Open Education Event (see more below).
Open Scotland
The second Opening Education Practices in Scotland project forum will take place in Stirling on the 19th March. Lorna Campbell will be talking about the Scottish Open Education Declaration.
EMundus International Seminars
During Open Education Week, there will be an international series of webinars discussing topics of open educational practice and institutional collaboration, which is the work of the eMundus EU project. Hear from Wayne Mackintosh, Rory McGreal, and many others at a variety of times reflecting the different originating time zones.
Disruptive Media Learning Expo
The Disruptive Media Learning Lab (Coventry, UK) is hosting a two-day event during Open Education Week celebrating innovative, experimental and connected ways of teaching and learning in higher education and beyond. These days will provide: stimulating ideas to listen to; challenging conversation to join in with; and transformative activities to participate in.
Ljubljana Workshop
On Monday 9 March 2015 as part of the SEQUENT Consultation Sessions there will be a day workshop on Quality Assurance of Open, Flexible and Distance Education held at Jozef Stefan Institute, Slovenia
At this event the results of the survey report on the perception and objectives of European higher education institutions on MOOCs and the main drivers behind the MOOC movement will be presented.