Open Education Moldova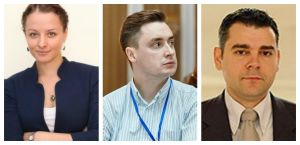 Continuing our theme of European countries today we have a post on Open Education in the Republic of Moldova. Moldova is another Eastern European and former Soviet republic country and shares linguistic and cultural roots with neighbouring Romania.
Cristina Lisii, Dmitri Belan and Alex Oprunenco from the United Nations Development Programme and working on the MiLab (Moldova Social Innovation Hub) Project explain current initiatives and future plans.
---
Reforming educational system is one of the critical challenges for the Republic of Moldova and it is at the cornerstone of the country's development agenda. However, as challenges abound, the question we at the MiLab (Moldova Social Innovation Hub) are dealing with is "how we can best help reform the Ministry of Education with relatively limited resources?" For us, the answer is: by advancing open education through civic engagement in outreach.
MiLab: changing the ways we educate…
Moldova Social Innovation Hub aims to establish a Social Innovation Hub, which will act as a multilateral platform to engage actors from different sectors (public, private, non-profit, etc.) to seek and experiment with innovative approaches to the society's problems. Ultimately, the Hub will develop solutions that have been tested on the ground and co-developed with strong involvement of beneficiaries and are ready to be scaled-up in extended environments. The project started in September 2014 and will end in August 2015.
To fit well into the bigger reform picture MiLab has established close cooperation with the Moldova Ministry of Education and we ensure that each priority we set for our work in education resonates and supports what Ministry is doing.
The list of priorities thus far has included:
Open Challenge: This was a good way to step into the field and test what is the level of people's interest and desire to get involved in changing the current education system. We have asked people: how we can make skills acquired at school more relevant for the students? The answers ranged widely. We heard from teachers, parents, students, pupil's associations, businesses, etc. As a result, five most voted ideas were rewarded with symbolic prizes, but also we have offered to assist in implementing three of them. This experience showed there are many good ideas are out there in the system, and if the right enabling environment is created they will come forward.
Online and mobile evaluation of textbooks: Moving beyond the traditional is always difficult. In Moldova, the revision of textbooks has exclusively been a prerogative of a limited group of 'experts' in education. Together with the Ministry we decided to ask for feedback a larger and more diverse group of users – teachers, pupils and parents. We have developed an online questionnaire with an interactive and user-friendly interface. Moreover, the form was accessible on most of devices, i.e. smart-phones preferred by students and PCs by teachers. We also wanted it to be inclusive, so the feedback form was accessible in both Romanian and Russian. While the number of respondents turned out to be smaller than the Ministry would have wanted, this exercise was the first try to reach online its stakeholders and open a frank discussion on a topic, previously in the realm of few.
Using on-line games for education: The problem in much of our traditional education is that information is presented as a one-way street: the message is supposed to travel, unencumbered, to the receiver. But it is not the best way to ensure that information is received and retained. Time and again, it seems that game can be part of the solution. In our game the players had to answer questions related to economic and social situation in the country, legislative framework and strategic policy frameworks. To be able to answer the players had to follow the links to the specific info or data sets. So besides having fun, you can also learn in the game. As you will see we are set to explore this approach further.
Future plans
Starting in 2014, more and more schools in Moldova are computerized and modernized, investing in hardware and smart boards. The efficacy of such an approach, however, is limited as long as there is a shortage of digital content or teaching material that is adapted to Moldovan curricula. Thus, together with a group of students who came up with the idea, we decided to organize a one-month hackathon to develop educational applications for the study of mathematics in schools. What is new about this hackathon is that it will bring together very unlikely partners- IT developers as mentors, mathematics teachers as experts and students studying IT as developers. We are working right now on organizing the contest and eager to see what will be the results afterwards.
Making school budgeting accessible: With the most recent education reform, many schools have gained autonomy in their financial management, thus adding to the tasks and necessary skill set of school directors things like procurement management and budgeting. While they receive intermittent training from budgeting experts (part of a World Bank sponsored project), they still struggle with some aspects of it. Together with the Ministry we decided to review the procedures involved in school budgeting from the vantage point of directors and identify how we can simplify or explain them in a more accessible, "human" way.
All in all, after less than a year of our work in MiLab we are strong believers that big improvements can be made through users involvement blended with new technology solutions.