Help us Build on our Timeline
Just before MozFest a group of us got together to start building the Open Education Timeline. There was lots of post-it notes involved and over 100 ideas/events collected.
We've now placed all those suggestions into a Google Spreadsheet that links to TimeMapper.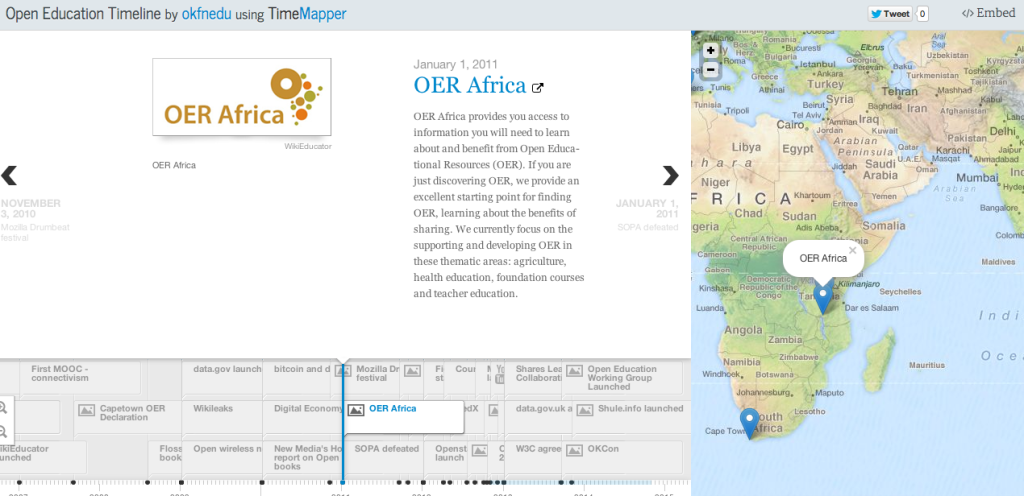 [TimeMapper is a project of Open Knowledge Foundation through OKFNLabs and the Source Code is available to use. TimeMapper is open-source. You can find details on Copyright and License.]
Most of the dates need checking (I can't even remember the date of birth of my children let alone important open education events!) and they also need fleshing out (so urls, locations, text, images etc.) to turn them into the most comprehensive Open Education Timeline to date! But this is a collaborative community project so we thought we'd get you all to help!
The main Google Doc is available for everyone to edit.
Each column has specific requirements:
Title – the name of the event, this is required
Start – start date, this needs to be in American format, so for the 1st June 2013 use 06/01/2013, this is required. You will spot that many dates currently have 01/01 as their day and month – these haven't been checked.
End – end date, only relevant if this a period rather than single point in time, this needs to be in American format, so for the 1st June 2013 use 06/01/2013
Description – textual description, not too long
Web Page – web page for this event – URL
Media – URL to an image or media (e.g. video)
Media Caption – Caption for the media item (optional even if you have a media item)
Media Credit – Credit for the media (optional even if you have the media)
Tags – separate with commas
Place – Human readable name for place (if any) e.g. any one of London, Europe, Paris, Texas
Location – Machine readable form of Place. Must be either GeoJSON or in following format: latitude, longitude e.g. 37.5, -122. You can use the Universimmedia site to do this – it is these co-ordinates that place the event on the map.
Source – Source name/title
Source URL – Source url
Once you have made changes to the spreadsheet you need to publish to the web for your edits to be seen (File>Publish to the Web>Republish now) on the Open Education Timeline.
To avoid mishaps we recommend making small changes and republishing often – so you can work out if there is a problem.
Contact us if you need any help.