Advisory Board Suggestions Required!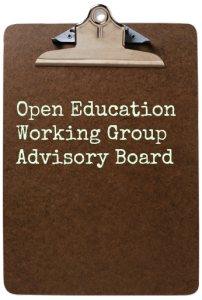 As discussed at the Open Education Working Group Call we would like to appoint an Advisory Board to support the Open Education Working Group.
"The advisory board will contain high-profile Open Education advocates who are unable to commit regular time to the Working Group itself but are experts in the field. The Advisory Board will provide thought leadership about the direction of the working group and help to raise the profile of the working group by talking about the group and their work at conferences and events."
This is taken from the charter – wording still up for discussion.
You can see example advisory boards by looking at the Open Science Working Group and the Open GLAM Working Group.
We would like to take suggestions from the working group community for who could sit on this board. Obviously there are no guarantees that these people will be willing to take on this role, we can but approach them.
If you have an idea for a person then could you add it to this etherpad – there are a few suggestions in there already so don't worry about being the first.
It would be helpful if you could add details such as contact information, their location, their role and why they should be considered. We are keen to have a diverse Advisory Board so please do contribute your suggestions and think global. Thanks!