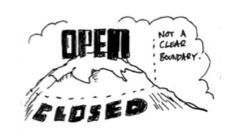 The Open Education Working Group has a mailing list which we'd love you to join. This is list for those interested in issues relating to open education – including educational data and educational resources. Note that we don't consider 'education' to just refer to formal education.
The archives for the group are available online.
We have recently been having 'Friday Chats' or discussion topics. If you have an idea for a topic add it to the etherpad.
Mailing List Guidelines
For our mailing list we use Mailman, the GNU Mailing List Manager, the site is managed by the Open Knowledge Foundation at lists.okfn.org. Details on how to subscribe and unsubscribe are given on the main page for the Open Education mailing list.
There are some mailing list guidelines on the Open Knowledge Foundation wiki but the key points are reiterated below:
If possible keep posts relatively short – if you want to write pages and pages do it in a separate document and share the link.
Try to keep to one topic per post with a clear subject line. If you are replying to a post and the discussion has taken a different turn change the subject line.
Be courteous and polite – if you get into an argument take it off list!
Do not send attachments to the list – they create an enormous amount of extra Internet traffic. Post the file online and share the link.
Apart from that please post and discuss, discuss, discuss! All aspects of open education are fair game! 😉