OER14: Outwards and Onwards
I was a little dubious about attending OER14 (held earlier this week in Newcastle) primarily because it struck me initially as a UK event spotlighting activity in UK academia. However the conference, which is in its 5th year, had a number of interlocking themes around Open Educational Resources (OER) as a collaborative catalyst for building communities of open practice, so there was a very outward facing feel to many of the presentations.
Outwards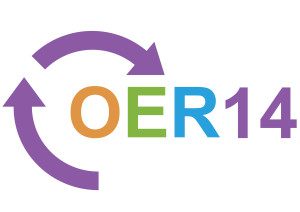 Ideas seem to cluster around looking beyond academia and seeing how UK developed OERs can be used wider afield, and being more receptive so that OERs from other spaces can work in the UK learning space. Interaction with the developing world was explored from the onset with a impressive keynote from Catherine Ngugi of OER Africa. Copyright in Africa renders most textbooks unaffordable, for teachers as well as students, and this has lead to didactic approaches. OERs break this mould. They could almost be seen as a Trojan horse that lead to discussions about pedagogical practice, harnessing education and whether educational property should be shared. Catherine explained how OERs from Africa can highlight African scholarship and support learning there. OER Africa recognise that Africa can be a provider, not just consumer of content. However she reflected that OER is not a panacea for community building or an answer to the funding crisis. For these reasons OER can't "just be something nice to do, it has to fill a tangible gap". Its clear that policy can be an enabler and a hindrance for OER and Catherine highlighted a need for clear OER policies where people, such as university staff, can recognise what is in it for them. The importance of information flow between global south and global north is imperative particularly in the area of health. Here Catherine name checked some activity from Ushahidi (Crisis mapping) and the Brck infrastructure support tool. Catherine finished by encouraging universities to think strategically about policy that encourages open collaboration.
During the course of the 2 days we heard from other projects that are exploring OER and development activities:
TESS-India – In India needs 1.33 million teachers but in Bihar 45% of teachers don't have the minimum qualification needed to teach. A session by Tim Seal and Leigh-Anne Perryman introduced the idea of 'unfreedoms' – poverty, lack of education and how through a localisation programme (adaptation of resources to make them more suitable for new contexts) Tess-India are trying to support teachers on the ground whilst dealing with a complex cultural context.
TESSA (TESS Africa) – The OER research hub http://oerresearchhub.org, who dominated the conference by attendees and involvement in sessions shared comparisons between TESS-India and TESSA.
Siyavula – Megan Beckett from Siyavula introduced their impressive open textbook programme which relies heavily on volunteer collaboration. OER Research hub has published a case study on the text book use.
Public OpenScholar – In a session entitled When two worlds don't collide: the marginalisation of open educational practices outside academia Tony Coughlan and Leigh-Anne Perryman looked at collaboration between experts and academia on open textbooks and OERs using the example of autism resources. Their work involved taking public open scholar into Facebook. The session was confirmed that in some countries, as Tony Couglan put it, "open and facebook are synonymous". Facebook have managed to get page load time down and are by far the best in developing world; this is the reality of how people are accessing resources in the global south.
ROER4D – Not presented on but mentioned many times, aiming to provide evidence-based research from a number of countries in South America, Sub-Saharan Africa and Southeast Asia on OER use.
Communities
The Open Education Working Group was presented early on in the conference. I think our aims align well with many of the conference's – the idea of moving away from marginalised open resources and looking at global cross sector collaboration. Our presentation is available on Slideshare.
An interesting discussion took place as part of the day 1 panel session on whether communities are built or just evolve. It's clear that there is no right and wrong here and there are many subtleties, but the Twitter comments made are noteworthy:
Community is like that place in the park where people gather…we can't build it
It not simple to create open communities which are not localised as species often geographically specific
I don't think they just happen, maybe they need to be 'nurtured' or 'fostered'
Master plan communities in the states – everything is planned out. And then a wall and gate around it. That's not a community
Do we actually build a community? Communities happen.
Discussion of can we build community? Or are we just making links?
But when you link communities, aren't you 'building' a new community anyway?
Surely people will do what people we do, and we offer resources to help them. We don't "build" communities.
Mapping and Finding
For me a lot of my time was spent finding out about new initiatives and projects that are of relevance to the working group and the handbook. So for example there were quite a few OER mapping activities flagged:
POERUP – Policies for OER Uptake – POERUP is carrying out research to understand how governments can stimulate the uptake of OER by policy means. The result is a global inventory of over 300 relevant national and other large-scale OER initiatives and 11 country reports and 5 mini-reports.
OER Impact map – gathers and publishes evidence about the impact of OERs. It is maintained by the OER Research Hub project. ou can review and vote on recent evidence entries or review our maps for OER policies and OER projects.
OER Exchange – A Craig's list for OERs. You can add links to OERs, events, tools, collaborations etc.
Also some repositories of content that I haven't heard of before:
ALISON (Advance Learning Interactive Systems ONline) -an Irish e-learning provider that wants to enable people to gain basic education and workplace skills.
Xpert – the largest collection of open education resources after iTunes – related to the Xerte OER creation tool developed by the University of Nottingham.
Naturally we've all heard of Wikipedia but have we fully explored it's potential in the education space? I went to a great workshop on the Wikimedia Ecosystem- where do you fit in? led by Martin Poulter. The session allowed us to build up a plan of how Wikimedia activities what we are working on and I now have some great ideas for the Open Education Handbook.
Data
People are starting to get more interested in data related to OERs. So for example FutureLearn have started looking at the data out of courses though relatively little has become openly available so far.
I enjoyed chatting to Simon Knight who is a Wikipedia and Wikidata advocate and researching around learning and analytics and where the two meet. Some of his recent posts include MediaWiki for Learning Analytics and linked data for OERs. All very relevant for the LinkedUp Project we are involved with. We presented a poster on LinkedUp as part of the poster exhibition.
Policy and moving forward
The closing key note was provided by Clive Mullholland, Deputy Vice Chancellor at the University of South Wales. Clive talked about how he has been getting Welsh VCs to collaborate leading to the Welsh Open Education Declaration of intent. The declaration records their intent to move towards openness and "places Wales at the forefront of Open Education (OE) developments as the first nation to fully embed OE within a national strategy". I know of open policy initiatives worldwide, for example in Brazil, that could support Wales here; but it's great to see this happening so close to my physical home.
OER15 will unsurprisingly take place in Wales. UK national OER initiatives within academia such as the ( Jisc OER Programme) have ceased to be. Activities are now internally or EU funded. However despite this the UK OER community continues to thrive and now wants to make friends beyond the UK, beyond academia and beyond resources. This padlet with ideas for what the R should stand for in OER is a nice example of this broader thinking. This community is moving forward!