New Year Plans: Working Group Calls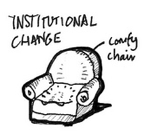 So it's now three months since the Open Education Working Group launch at OKCon. Time to reflect…
In that 3 months we have achieved 2 booksprints (one in London and one in Berlin) for the Open Education Handbook, an open timeline event, 6 blog posts on open education around the world, 26 blog posts altogether, 188 members on our mailing list and 307 followers of our Twitter feed. Phew!!
It's not bad…but we think we can do better in 2014.
We'd like to start the New Year by kicking off our Open Education Working Group calls.
The purpose of these calls will be two-fold:
Firstly they will be an opportunity for us to get to know each other. During the first half of the call people will be able to introduce themselves and give a brief overview of the open education related project and activities they are involved with (think of it as a quick lightning talk – so mega quick!) You don't have to speak if you don't want to, there's no pressure. But if you have something you'd like to share then this will be the time.
Secondly they will be a chance for us to get the group active. The second part of the call will allow us to get down to business and here we will discuss what we'd like the working group to be, future activities, ideas for events etc.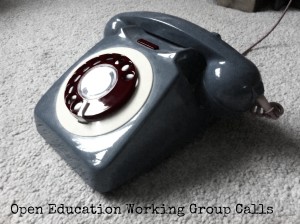 We'll see how the first call goes but we're thinking that it will last approximately an hour and will be held in Google Hangouts. We'll probably experiment with timings a little (we know you are spread out over time zones) and may try out some different dates, but eventually we'd like to settle on a regular slot (such as the X of the month at X o'clock).
If you are interested in attending our first call – which is likely to be in January – then please register your interest in the form below.
Hope to see you there!