Advisory Board Member: Cable Green
new Open Education Working Group Advisory Board
.
Dr. Cable Green is the Director of Global Learning at Creative Commons (CC). Today he talks about his involvement in open education thus far. Cable writes on the CC blog and tweets @cgreen.
******
I was recently invited to join the Advisory Board of Open Knowledge's Open Education Working Group and I quickly accepted. The aim of the group, "to initiate global cross-sector and cross-domain activity that encompasses the various facets of open education," is perfectly inline with the open education, policy, access, data, science, legal and government work we do at Creative Commons. I firmly believe that the world is shifting from closed to open and that we need all hands on deck and all open organizations and advocates fully connected and coordinated if we are to leverage this historic opportunity.
The opportunity? For the first time in human history, most of the world's knowledge, research, data, and educational resources are digital. Digital things cost almost nothing to store, distribute and copy…and we can share these digital things, at the marginal cost of $0, under Creative Commons licenses with the world. Further, governments and other funders are starting to require that publicly funded resources are openly licensed resources.
The opportunity = this fortuitous confluence of factors:
governments / foundations with money requiring "open" (by requiring CC licenses on publicly funded works) +
digital works cost near $0 to store, copy and distribute to everyone +
increasing public demand for access to high quality learning and research resources +
new pedagogies and practices in new learning spaces +
new for-profit and non-profit business models around open
Bottom line: we live in a world with everyone can access high quality, near 0 cost education and research resources, public sector data, we can be citizen journalists, and open data can be leveraged by scientists to cure diseases and solve global crises faster than ever before. The question is – will we use these technological, legal and policy tools to democratize access to publicly funded resources and data? I think we should.
At Creative Commons, we're engaged in multiple projects that work to leverage and make explicit these opportunities.
School of Open: Educating about open.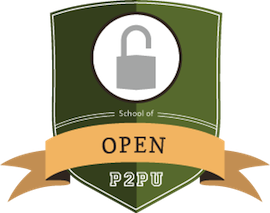 To address a general lack of knowledge of the practice and benefits of open licensing, we have launched the School of Open to offer free education opportunities for anyone to learn about the meaning and impact of open licenses and resources in the digital age and their benefit to creative endeavors, education, research, and more. Individuals and organizations will learn how to use free technology and tools, such as Creative Commons licenses, to share, improve, and build upon their materials. We are coordinating the project in collaboration with the Peer 2 Peer University (P2PU) at http://schoolofopen.org.
Open Policy Network: Ensuring open access to publicly funded resources.

To fully scale the opportunity of OER and maximize the impact of taxpayer money, we need open policies to ensure publicly funded resources are openly licensed. The Open Policy Network is a coalition of open organizations who work to foster the creation, adoption, and implementation of open policies and practices that advance the public good. Through this initiative, we will enable advocates, researchers, and policymakers to access resources, expertise, and model policies to advance the spread of open policy adoptions at the institutional level. We are coordinating activity to shape this project in its beginning stages at http://staging.openpolicynetwork.org.
As part of the network, we are hosting the OER Policy Registry, a community-curated database where you can share, update, or browse current and proposed open education policies from around the world.
Open Professionals Education Network: Supporting open policy program grantees.

The Open Professionals Education Network (OPEN) provides free support and technical assistance to all grantees of the $2 billion Trade Adjustment Assistance Community College & Career Training (TAACCCT) grant program from the U.S. Department of Labor. OPEN works with grantees to meet the provisions of the grant, including the CC BY open licensing requirement for all educational resources produced as a result of grant funds. OPEN services are provided by Creative Commons (CC), Carnegie Mellon's Open Learning Initiative (OLI), Center for Applied Special Technology (CAST) and the Washington State Board for Community & Technical Colleges (SBCTC) at http://open4us.org.
Learning Resource Metadata Initiative: Making it easy to find and share open resources.

The Learning Resource Metadata Initiative (LRMI) is a project led by Creative Commons (CC) and the Association of Educational Publishers (AEP) to establish a common vocabulary for describing learning resources. The vocabulary is the first independently developed industry-specific framework designed to work with schema.org, the web metadata framework launched by Google, Bing, and Yahoo!, thereby improving the practical search and discovery of learning resources online. To learn more, visit www.lrmi.net.
I am excited to participate in the Open Education Working Group, and look forward to realizing the aforementioned opportunity, with my global open colleagues, over the coming months and years.
Time for the third of our blog posts from our